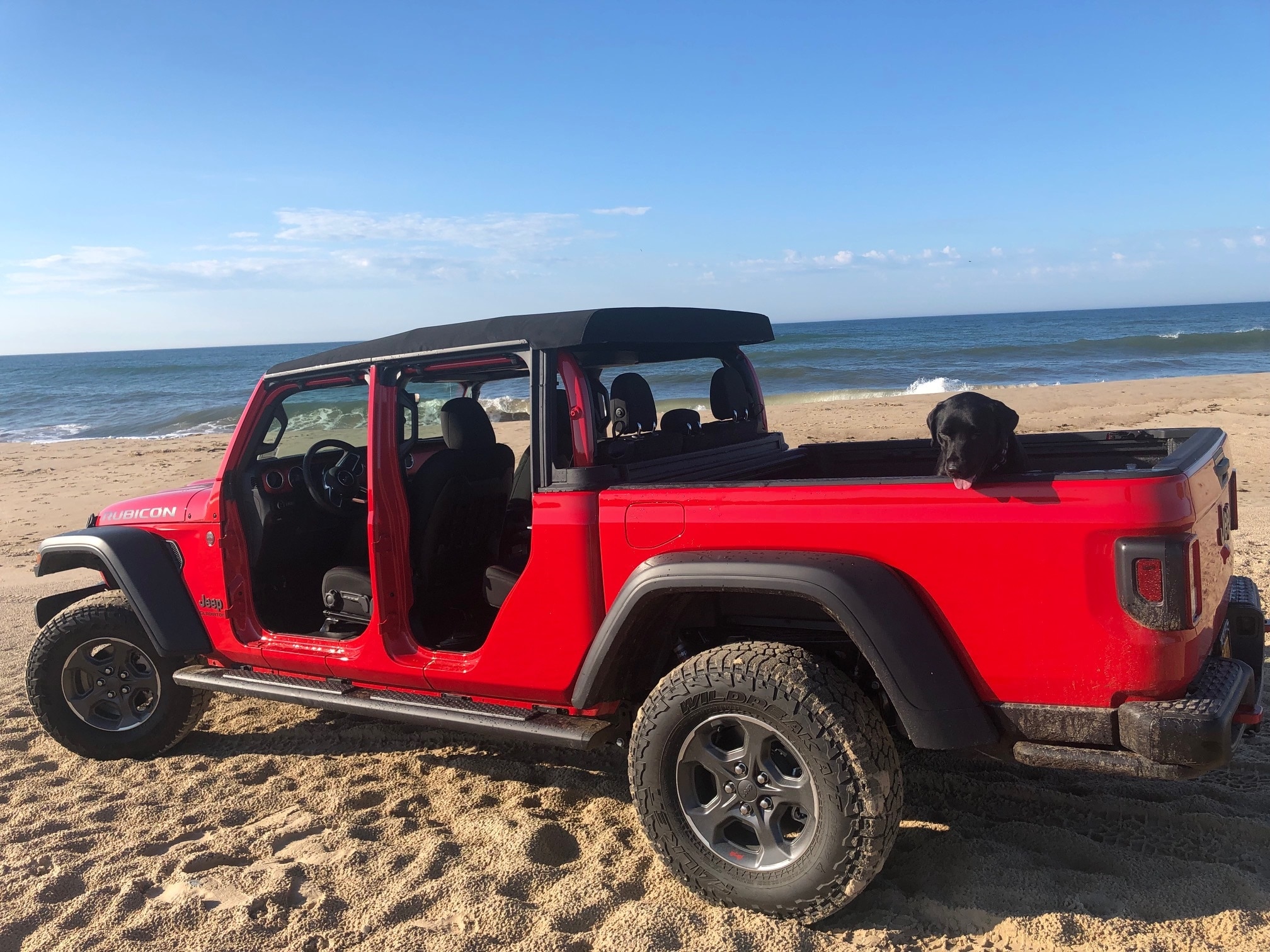 A great moment from a loyal customer in Montauk with Bailey!
"Amazing Experience! " 
This is a true gem of a dealership. Normally car buying can be very stressful, and usually I deal with a lease broker for my cars to avoid wasting my time talking to arrogant staff (especially here in NY) This place is far from a normal dealer.... they make you feel like family. My normal broker usually gets the best deals on German and Jap cars.... We had some numbers drawn up on a BMW x1 and Benz A class which were very competitive... but my wife wanted a Jeep. Happy Wife = Happy Life.... So I contacted a few dealers and I had the pleasure of dealing with Joe Algieri and he is a very laid back, hard working, no pressure professional. I put an inquiry in and in the matter of moments he responded. The other dealers in the area called me but wanted me to set an appointment to meet in person, trying to sell me over the phone without understanding what I wanted. I didn't want to do that. I wanted to take care of the deal remotely and meet in person to sign.. White Plains Chrysler is the only place that showed true compassion and understanding. Plus I felt like I was dealing with a human, not a robot which these other Jeep places in the tri-state sound like.

We did the interaction during COVID-19 so we exchanged emails, he got my wife the car she wanted at a very fair deal. At first I thought it was too good to be true, but the number he said is what we paid....no funny games, or fees. We got the car in about 24 hours from start to finish. Right after we signed Augie DiFeo the owner came out to personally say hi to me and my wife and see how we were doing, and showed his true appreciation for doing business. This is what makes all the difference.

I personally am in finance/technology and I'm in the front-lines dealing with clients all day. I ALWAYS do right by people and unfortunately not everyone is like that... It was a good feeling to be on the receiving end and dealing with people that care. I'll be referring a lot of my clients/friends to this place. If you need a vehicle ask for Joe and he will take care of you. Thank you White Plains Jeep. Charles Sepulveda - June 8, 2020
Mr. Sepulveda, we are very appreciative of your confidence, trust and support.. I know that Joe takes great pride in meeting customer expectations and we are very proud of his commitment to meeting customer expectations. We are thankful that he is part of our team and performing to achieve a transaction with a positive experience. Wishing you safe driving & safe health. Augie
----
Hi Augie, 
I just wanted to compliment your staff, especially Chris in the service department. I live in New Jersey, yet I choose to come to White Plains to have my car serviced which is still covered under the warranty. I get treated as if you value my business more so than the dealerships in New Jersey. Chris took care of me this time and last time it was Roland. Both times I had a pleasant experience. Your staff is direct and to the point and there are no surprises, and the car is always done in a timely manner. I began the relationship with White Plains Chrysler around three years ago to purchase my car off of the lease. I will continue to bring my car back and referring your dealership. It's nice to know there's a dealership you can trust! Sincerely, Laura Verbeeck - February 2020
Laura,
I want to thank you so much for the wonderful comments about our dealership and specifically Chris and Roland. Needless to say, we are only as good as the people on our team and the dedication and commitment they bring each day to make our customer experience positive and rewarding.
I will share your comments with our team members with special recognition to Chris and Roland. If you are not aware, Roland has been with the dealership nearly 15 years and travels from the Massachusetts border two and half hours each way every day. You cannot ask for a greater commitment and I'm always thankful for Roland and others that make a similar commitment. 
With deep appreciation, Augie 
----
Best dealer for buying a car. I have bought 3 Jeep's and my salesman is Guy Forgione. Great experience from beginning to end. Guy showed me everything about my Jeep Summit and he made the experience fun. Kevin Hart - December 24, 2019
Hello Kevin, and thank you for your review and your kind comments about Guy. We're so glad you had a great experience, and we appreciate your loyalty. Enjoy your new Jeep!!! Augie
 ----
"It's like buying a car from Family!!!" 
My wife and I are on our 6th car from Chrysler Jeep of White Plains. Guy Forgione, the salesman who sold us our new 2020 Wrangler and the last four cars we leased/purchased, has become like family. He is always accommodating and personable. Guy makes sure you're happy with your purchase and that everything runs smoothly from inquiry to pickup. We will never go to another dealership for our automotive needs. Thank you Guy and Jeep of White Plains for always making our experience comfortable. See you when we bring the car in for service! Mike Krypton - November 2, 2019
Hello Mike and thanks for your review -- more importantly, thanks for your loyalty! Enjoy your new Wrangler!!! Augie
---- 
Great dealership...Awesome owner...wonderful Salesman Guy and very nice staff. Everyone was a pleasure to deal with. Not our first car and definitely not our last!!! Mtaboada - October 22, 2019
Hello Mtaboada, and thank you for your review and your kind shout outs to the team.We're so glad you had a pleasant experience, and we appreciate your recommendation. Enjoy your new car! Augie
 ----
"The Best in the West..chester." Guy always provides the best, friendliest service everytime you go to see him. He makes the process so simple and easy and really takes care of you. vmannar - October 18, 2019
Hello vmannar, and thank you for your review and your kind comments about Guy. We're so glad you had a straightforward, easy experience, and we appreciate your recommendation. Enjoy your new vehicle! Augie 
----
"Long time customer first time buyer." I had leased six cars from White Plains Jeep in the past and just made my first purchase. Walter met me in his day off and was a true professional who made the process easy. Danny the finance manager was nothing but clear and helpful in closing the deal and making me feel confident that I understood all the figures involved and was treated more than fairly. I highly recommend this dealership. EW - September 8, 2019
 Hello EW, and thanks for your review and your comments about Walter and Danny. We're so glad you had an easy, hassle-free experience and we appreciate your recommendation. Thank you for your loyalty, and we look forward to your next visit. Enjoy your new vehicle!