Well folks, with the weather warming up, it seems that one of our favorite seasons here at White Plains Chrysler Jeep Dodge is upon us again. That's right, it's Tax Return Season. Now, if you're like many drivers here in the White Plains, NY area, you're likely to see quite a sizeable return on your taxes this year. And if you're looking for something useful to put that extra cash towards, we might just have something to catch your eye here at White Plains Chrysler Jeep Dodge with our selection of bargain used cars.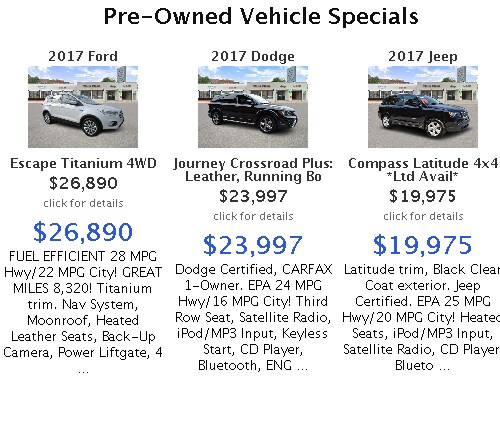 ​
Now, our selection of bargain used cars has always been a compelling option for New York drivers on a budget, but it's even more so during tax return season. With the substantial sum of money that many New York drivers will see in their tax returns this year, you may just find that it's markedly easier to budget for your next vehicle, especially if you're looking at some of the competitively priced options available in our bargain inventory. Featuring many popular pre-owned models from the Dodge, Ram, Chrysler, and Jeep Brands, as well as popular used cars from other top brands, our bargain inventory offers plenty of great vehicles to invest your tax return money into that are sure to serve you well for years to come.
Of course, the attractive offerings in our bargain pre-owned inventory are just a few of the many options you'll have when you shop with us here at White Plains Chrysler Jeep Dodge. So, if you'd like to explore all the other great reasons to roll your tax return towards a new car here at our White Plains, NY dealership, don't hesitate to visit us at your earliest convenience.