2019 Dodge Challenger SRT Hellcat Redeye
It's official. The Dodge Hellcat was just possessed by a demon. And the end-result couldn't be any better or faster. Or at least that's what Dodge just announced for its 2019 Dodge Challenger SRT Hellcat Redeye. In short, this cool muscle car aims to take everything great about the Hellcat and the Demon and merge it into one amazing package. No doubt this car is going to be one of the fastest muscle cars ever seen. So, read along to see just how Dodge intends to update one of its most powerful production cars!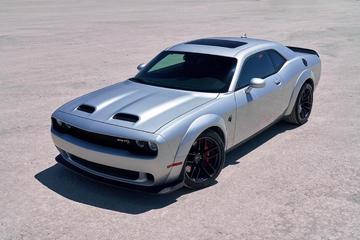 How Does a Possessed Hellcat Motor Look?
We already know that both the Demon and the Hellcat are two of Dodge's fastest cars. No doubt you'd be right to expect big numbers here. To be exact, the Redeye will go all out by sporting a massive 6.2-liter supercharged Hemi V8.
Just as the engine already implies, this muscle car will allow you to put out some massive power! Specifically, you can expect 797 horsepower and 707 lb-ft torque. This Hellcat will allow a 0-60 in a rapid 3.4 seconds. That's pushing supercar territory!
Still not fast enough for you? Then you'll be happy to learn that the 2019 Dodge Challenger SRT Hellcat Redeye will have no problems reaching a maximum speed of 203 mph. Again, this is on the speedier side of production cars. This fierce machine will get your adrenaline pumping!
How Does the Redeye Compare with a Basic Hellcat?
Let's put these numbers into perspective. Compared to the not-possessed Hellcat, you'll see some differences in speed. Which is really saying something since the Hellcat dominates its competition quite easily.
Specifically, the basic Hellcat tops out at a max speed of 199 mph. Also, the engine only offers 2.4 liters and reaches a max of 6,200 RPMS (compared to the 6,500 RPMS of the Hellcat Redeye). There's quite noticeable differences here when compared. But even with that said, the basic Hellcat remains a contender in the market without any issues.
Design: The Same Signature Muscle Dodge
Overall, it's hard to argue against the sexy design of the original Hellcat. And thankfully, Dodge isn't changing much visually this time around.  Of course, you'll find a few red-eyed Hellcat logos around the car. But perhaps the most notable change is the two new vents added to the hood. It's a necessary change that allows for a larger motor. But it also works as a throwback to the classic Dodges of the 1970s. Really, it's a perfect blend of retro and modern on such a powerful car.
Step inside the Redeye and it'll be immediately apparent what car you're driving. The Redeye logo appears at the end of the speedometer. And appropriately, the speedometer is red-reminding you of the sinister performance this car is capable of producing.  Furthermore, you'll get an infotainment system, which is always a nice touch in a sports car. And then there are those leather seats with the Hellcat Logo etched into them.
And finally, be sure to look at your gauges as you get that ignition roaring. Upon startup, you'll even see a hellcat logo popup between your displays, which is a nice little reminder of the power held within this epic muscle car.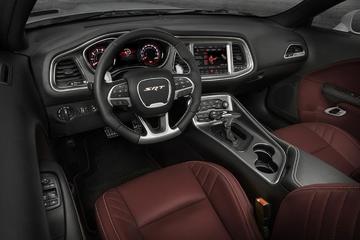 Ready to Challenge the Possessed Hellcat?
Do you think you can tame the demon resting beneath the hood of the 2019 Hellcat Redeye? If so, then you'll be happy to know you won't need to wait long to get behind the wheel. This epic car goes into production this fall. And delivery begins at the end of the year!
Even better, this isn't a limited-edition car like the Dodge Demon. Instead, the carmaker mentioned plans of keeping the Hellcat around for quite a while. This is fantastic news since this will easily be the most powerful production muscle car of 2019! Come see us at White Plans Chrysler Jeep Dodge as you won't want to miss your opportunity to drive the Hellcat redeye.